Published: 2020/10/05
Switch To Summer
You've traded in your winter coats and boots for sleeveless and sandals. Switched from long hot baths to cool showers and pool parties with frozen mojitos. The signs are clear: Summer is here!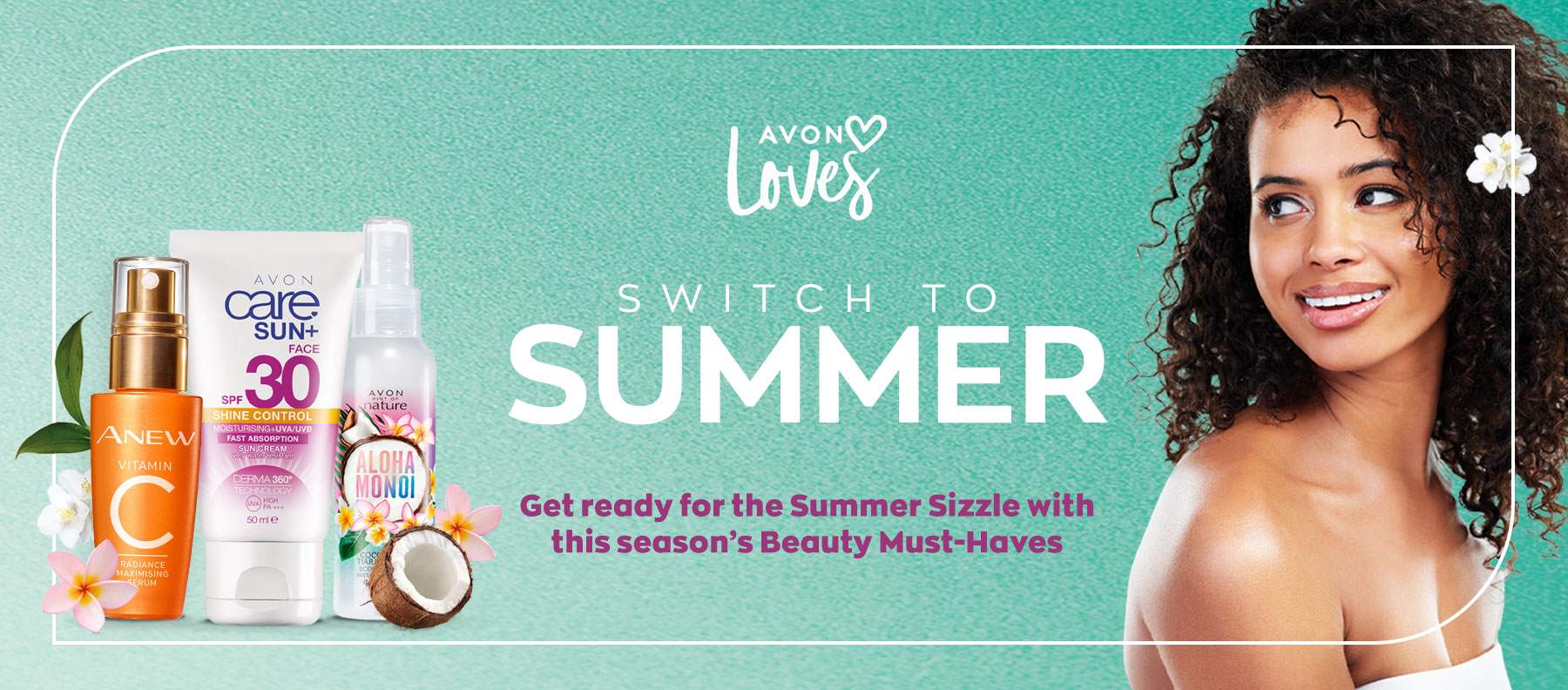 Get ready for the Summer Sizzle with this season's Beauty Must-Haves
With all that excitement around, getting a new bathing suit and figuring out what your next adventure is going to be, we'd like to welcome you to the sunny season with some beauty tips to help you look and feel your best. So, shake off the chilly winter weather and look forward to some hot fun under the summer sun!
ALOHA SUMMER
While a refreshing shower with your favourite body care products might seem like an obvious summer essential, there's more to it than just basic hygiene. These deliciously scented bath and body products will tantalise the senses, putting you in that happy holiday feeling. We recommend the brand new Aloha Monoi range (with shower crème, bubble bath, body lotion and spritz) for a polynesian paradise escape, in the comfort of your own home.
SANDAL-READY FEET
Winter can have your feet looking more drab than fab. It's time to ditch the boots and socks and put your best foot forward this summer with our new Foot Works Pineapple & Tea Tree foot kit, including: foot paddle, foot scrub, foot serum and foot spray - the perfect treat for your feet.
YOU GLOW-GIRL
Thought Vitamin C was only to keep the winter flu at bay? Think again. Vitamin C isn't just responsible for that healthy, glow-worthy complexion - it is also a potent antioxidant to neutralize free radicals (found in those pesky UVB rays) before they can damage skin cells. The more vitamin C you get, the better the benefits. So, get the power of 30 oranges in 1 bottle with Avon Vitamin C Maximising Radiance Serum and Skin Tonic for healthier-looking skin in just 1 week*!
*Based on a consumer study
LIP. EYE. LASH. TRIPPLE SUMMER SLAY.
New season, new look, and this summer's beauty forecast calls for intense shimmer, colour, and glow. Wear this season's trending lips and tips with a variety of bright, fun colours from Avon, and finish it off with a dramatic-eye with Euphoric Mascara - it's the perfect look to keep all eyes on you this summer.
SUMMER-SCENT
Switch to summer with a lighter, fresher summer fragrance, like the Far Away fragrance range. There are three different versions (Original, Infinity and Gold) with an orange jasmine flower and madagascan vanilla base, so you can take your signature scent from sexy to sophisticated without compromising on your fragrance personality.
SUN-KISSED SKIN
While you should use sunscreen every day, it's even more important during the summer, when the days are longer, the sun is brighter, and it's easier to get burnt. Choose Avon Sun Care+: a "broad-spectrum" solution that protects your skin against both UVA and UVB rays, and provides a sun protection factor (SPF) of at least 30. Reapply every two hours of exposure and immediately after swimming or excessive sweating.
TOTES GORGEOUS
A roomy beach bag or tote is undeniably one of the season's most important accessories. For those who find themselves beach bound this summer (or just have a lot to carry) you'll likely need something to throw all of your necessities in. Look for something that's bright, comfortable to carry and easy to clean, like the Lauren Tote with beautiful floral design and faux-red handles.
NOW YOU'RE READY TO SUMMER
So there you have it - it's time to put work on the back burner and bring out the cocktail recipes. We have everything you need to go from hibernating under cover to enjoying the season of sun and fun - without burning a hole in your pocket.