Published: 2020/07/29
The Korean Skincare Revolution
From sleeping packs and snail slime to skin ampoules and salmon egg cream, Korean skincare has become a big topic of discussion recently. While there are a lot of questions out there, many people are still asking: What is K-Beauty and how do I get my hands on it? We're here to help you understand it better.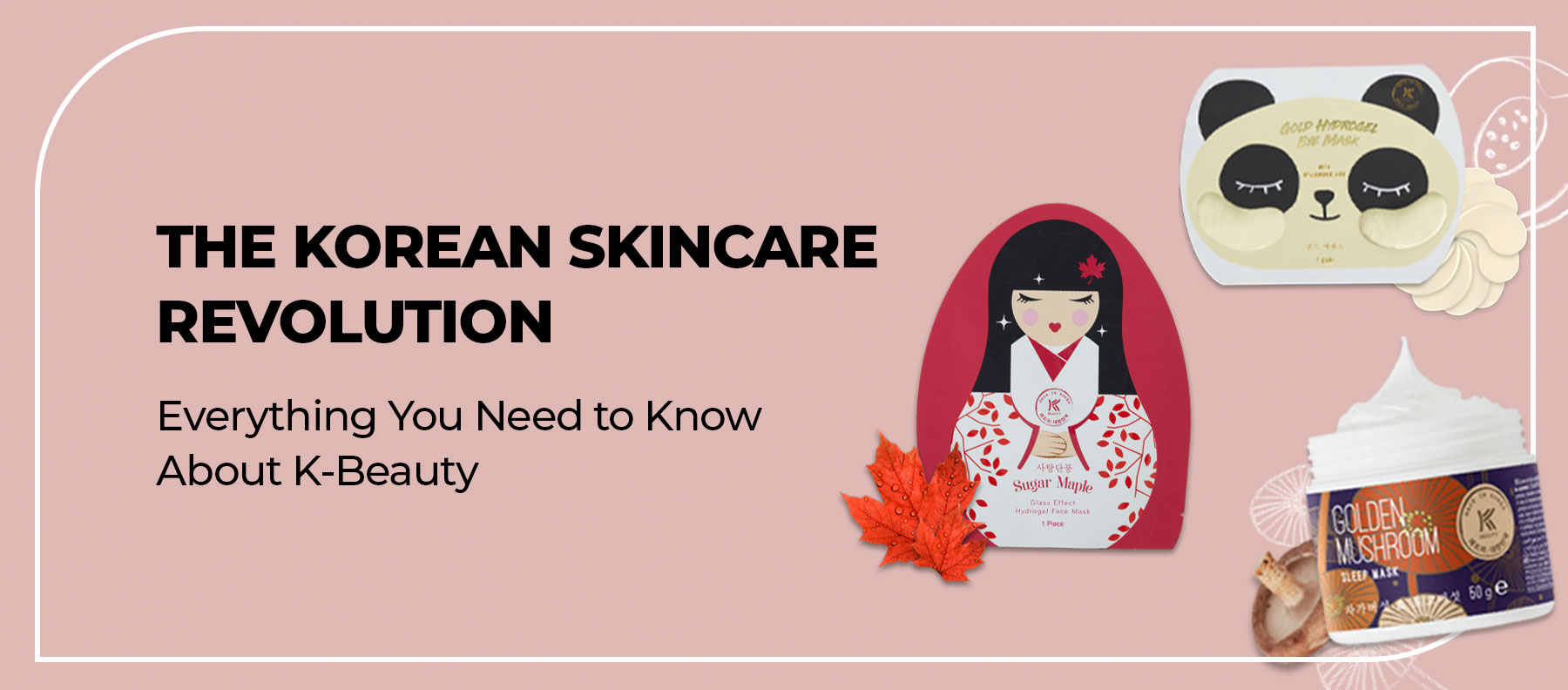 Not Just Another Skincare Trend
Refreshingly, K-Beauty isn't just another pop-culture phase. In fact, it's been around for thousands of years. K-Beauty is an umbrella term for skincare products and routines that are derived from South Korea. Essentially, K-Beauty is and captures the secret to achieving skin that looks as luminous as is humanly possible.
The K-Beauty Difference
Korean women are taught from a very early age that beautiful skin is important, and they do whatever it takes to make sure they always look and feel their best. To maintain flawless skin, they don't just rely on applying a cleanser, toner and a moisturiser. They use a personalised beauty regime that concentrates on care and prevention, rather than decorative cosmetics.
Koreans also think of different ways to improve their skin: alternative formulas, interesting ingredients, and even diverse textures, such as a pudding or a jelly cream, or a hydrating face mist, whereas Western beauty still consists of traditional products like liquid toners and creams.
10 Steps to Beautiful Skin
Unlike Western skincare routines that mostly contain 4 to 5 beauty steps, K-Beauty consists of a 10-step regime that includes cleansing oil, facial cleanser, peel, toner, essence, serum, sheet mask, eye cream, emulsion and cream. Even though the routine can be between 30 minutes to an hour, especially when using a sheet mask, it's all worth it! Luckily, you don't have to follow all ten steps every day - some can be done two to three times a week for best results, e.g. a peel or sheet mask.
Avon Brings K-beauty To You
Just like Korean beauty experts, Avon believes in the power of "me-time", and since we all have a little more time on our hands these days, why not spend it doing something good for your skin? After all, you can always count on a good sheet masking session to leave you relaxed and glowing!
If you're a skin enthusiast, and are K-Beauty obsessed, then you'll be happy to know that Avon has curated a collection of premium Korean products to help you get that porcelain looking skin. Add these products to your skincare regime (two to three times a week) for perfectly luminous skin - right here in South Africa!
Gold Hydrogel Eye Mask with Hyaluronic Acid: Golden shimmer helps instantly cool and de-puff under-eye areas, leaving it fresh, smooth and bright
Jelly Kiss Lip Mask: Contains Manuka honey and peach to soften, hydrate, plump and soften lips
Golden Mushroom Sleep Mask: Contains a trio of 'superfood' mushrooms (Chaga, Shiitake and Matsutake) to provide more radiant, hydrated skin overnight (as you sleep)
Cica Smoothing Sheet Mask: Contains Cica, to soothe, hydrate and nourish skin for a calm, even glow
Glass Gel Hydrogel Mask: Contains sugar maple extract to help remove dead skin cells and give you dewy, hydrated, 'glass-effect' skin in just 10 minutes
Hand Creams with Natural Extracts: Lightly scented, deeply moisturising hand creams enriched with Milk, Acacia or Lotus Flower
Invest In Your Skin
Feeling inspired by K-Beauty? With super-cute packaging and definitive results, you can incorporate K-Beauty into your current skincare regime - no matter how many steps you follow.
Blog by: Minette Underhay

Shop the blog