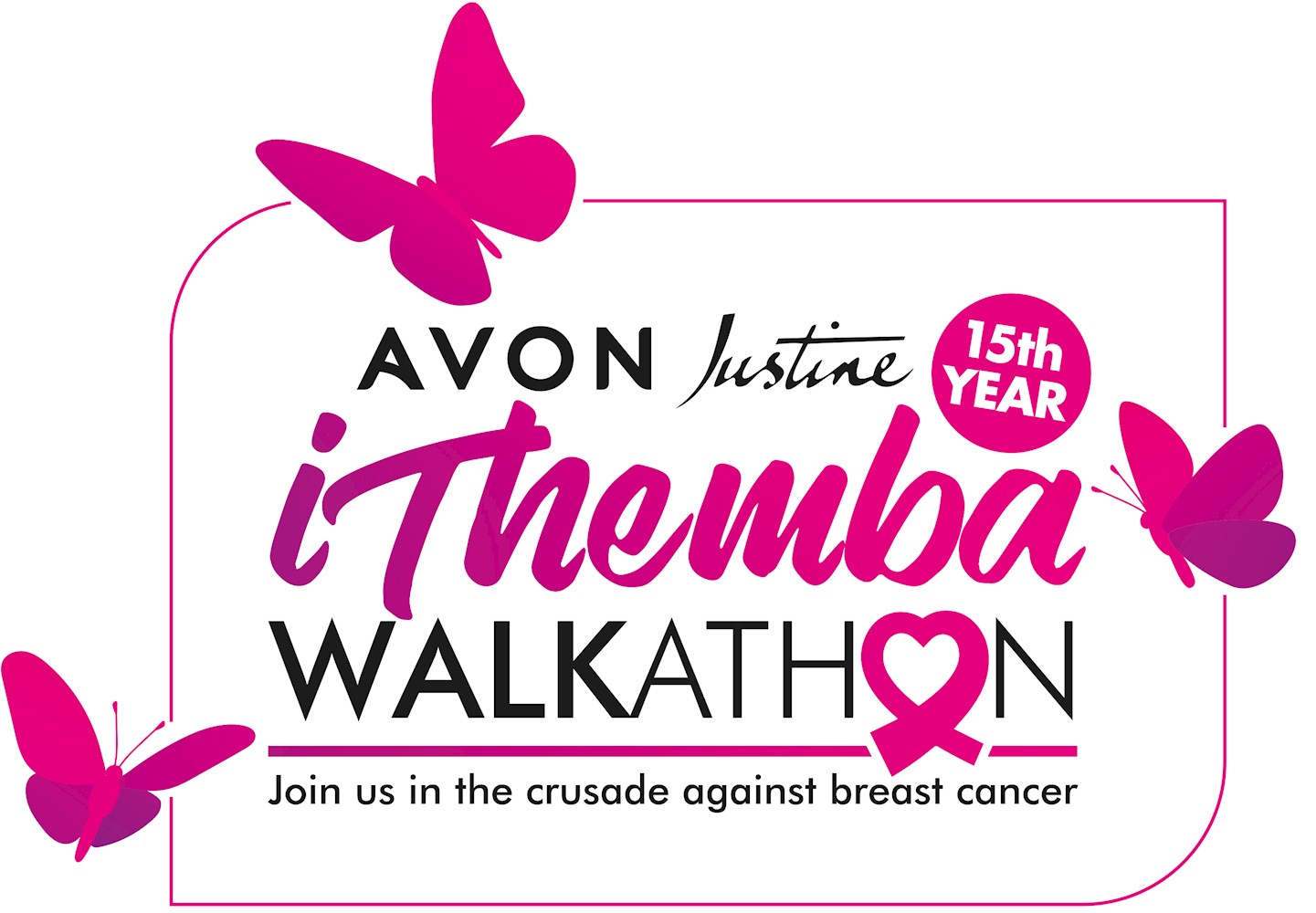 Welcome to the 15th Avon Justine iThemba Walkathon!
iThemba Walkathon is the Avon Justine breast cancer walk, the largest breast cancer walk in the Avon world consisting of over 50 participating countries. Aimed at generating massive awareness of breast cancer in South Africa, we hope to reach all South African women with key educational material that will encourage them to go for regular screening and potentially save countless lives. This objective is in line with our breast cancer promise and mission to positively impact the lives of millions of women globally every year through to 2030.
Our Breast Cancer Promise:- We will help every woman know the risk.
- We will help every woman know the signs. 
- We will help make sure every woman knows how to take action.We work with several NGO partners to fulfil our breast cancer promise namely, the Cancer Association of South Africa (CANSA), Journeysys, Wings of Hope and Look Good… Feel Better (LGFB).

Yes, we're going virtual this year!
Due to Covid-19 regulations, we are doing things differently and will be hosting our first-ever virtual walk! Instead of hosting a single big event in only 1 City, 1 Province we're calling on all South Africans to join the 15th edition of iThemba Walkathon wherever they are. Register today and get your Walkathon Participant's pack so that you are ready to dress up in pink and make a difference on the 31st of October.
To keep us all united on the day and to generate as much breast cancer awareness as possible, make sure to share your iThemba Walkathon experience on social media by simply using the hashtag #iThembaWalkathon on your social media platform, remember to tag a friend.
To keep everyone connected during these unprecedented times, you will have the opportunity to unveil the fun and have creative ways to celebrate together with your loved ones wherever they are through a virtual App experience - the iThemba Walkathon Mobile App. To have access to this exciting iThemba Walkathon mobile App, you will first have to register then download the App from a link you would have received via SMS after registering. The iThemba Walkathon Mobile App is compatible with all smart devices and can be downloaded on Google Play Store (Android) and IOS Store (Apple).
Use your iThemba Walkathon Mobile App for:
- Walking on the day to track your steps and/or progress.
- Take a screenshot of your distance and/or finish time once you complete the walk.
- Take a screenshot of your distance and/or finish time once you complete the walk.
- Wherever you are, walk and share your experience and tell us why it is your time to make a differenceTogether we can change the world!
The first 30 000 Participants to register for the 2020 edition of the iThemba Walkathon will receive: Commemorative iThemba Walkathon t-shirt, String Bag and Avon or Justine Product
Event Details
DATE: Saturday, 31 October 2020.
VENUE: Virtual Walk, App Download to be communicated after registration. 
TICKETS: R150 for Adults & R100 for children over 2 & under 12.
ENTRIES: Enter using the online registration form.
CLOSE DATE: Entries close on the 26th of October. 
No entries on the day of the event. 
iThemba Walkathon
is now in its 15th year!Since the Avon iThemba Crusade of Hope was launched, more than R24 million has been raised for breast cancer education, awareness, and community benefit programs since. This has been donated to our strategic NGO partners that we have worked with over the past 15 years.
Breast cancer affects one in every eight women globally and it's on the increase with 50% of all new cases being found in developing countries such as ours. In South Africa, it is the most common type of cancer affecting women, yet most women don't know its symptoms or that they should conduct monthly breast self-examinations (BSE) and possibly go for an annual mammogram. Only two in five women (42%) are confident about recognizing the changes to their breasts that could be a sign of cancer, according to a new survey of 19,000 respondents (including respondents from South Africa).
The findings also show there is a knowledge gap amongst women globally about what the symptoms are for breast cancer and how to lower the risk of developing the disease. Despite 73% of respondents saying they look out for changes to the appearance of their breasts, many reports that they aren't confident they could recognize the early signs of breast cancer.
Moreover, more than half of those surveyed (60%) would hesitate to seek medical advice for a variety of reasons, including embarrassment, fear and not having access to a regular doctor. To date, we have reached some 15 million South Africans.
We want to reach more women in line with our breast cancer promise. We encourage all men and women to practice breast health by going for:- Clinical Breast Exams
- Yearly Mammograms
- Monthly Self Breast Examinations
2020 iThemba Walkathon, My Time To Make A Difference - Watch Me Now!
#iThembaWalkathon
Frequently Asked Questions | AVON Justine iThemba Walkathon